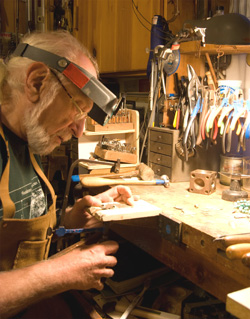 WORKSHOPS
Bending, cutting, hard soldering, bezel setting, simple chain making, forging and polishing
Subjects covered are dependant on duration of workshop. Depth and complexity vary with student body, background of participants and bench time available.
Cuttlebone Casting
Basic Wax and Centrifugal Casting
Fold forming
Forging and Smithing
Printed handouts of technical information will be supplied.
DETAILED COURSE INFORMATION PROVIDED UPON REQUEST
$ 700.00 PER DAY PER 6 HOURS
Lodging, food, travel to be provided by host
$450 WITH WORKSHOP
$475 WITHOUT WORKSHOP
If you are interested in having Stan teach a workshop at your facility contact stan@stanplotner.com